Italian packaging production in May 2021 increased by 10.6% relative to the same period last year. While this is a positive data, it needs to be put into context. In fact, May 2020 corresponds to the third month of lockdown and disorder in the usual channels of packaging production. A more useful comparison is with the data of the even previous year. Measured against May 2019, Italian packaging production rose by 0.6%: in other words, it has returned to pre-crisis levels. Compared to April 2019, a pause in the growth of the sector is to be noted.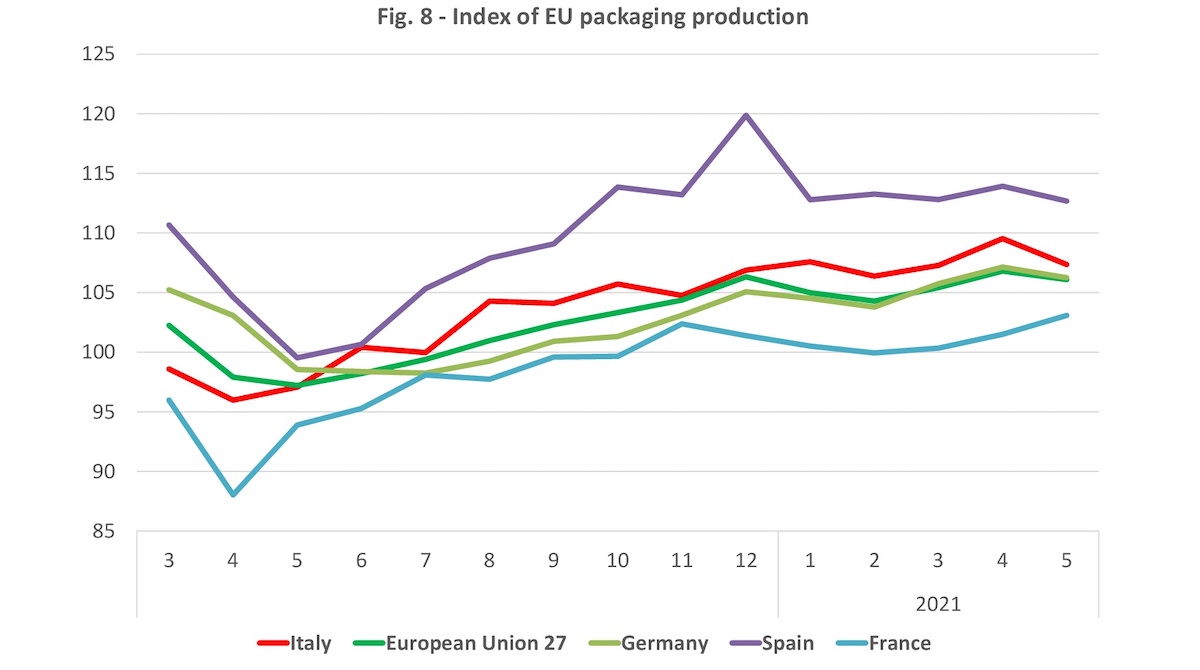 The Italian packaging production index is the result of the average in the dynamics of various segments. Specifically, the production of metal and wood packaging is situated at still lower levels of activity than those of May 2019 before the crisis (respectively -14.0% and -8, 0%). In contrast, the paper, cardboard and plastic packaging segments are dynamic and recorded increases of 6.3% and 2.0% compared to two years earlier.
In the international context, May's packaging production in the EU 27 increased by 9.1% against the same month in 2020. All the major economies are experiencing robust growth. For Italy, the comparison is of little significance, however, and it is more interesting to contrast the data with May 2019. This perspective gives a more diversified view, but positive in any case with EU 27 packaging production increasing by +1,5%. To note is that French packaging production returned to positive territory (+1.2% compared to May 2019).