To what degree can we create more sustainable packaging by using the chemistry of inks, coats and lacquers? Is it simply a matter of choosing certain products or is it a more complex process? Giuseppe Ciriello, Head of Technical Competence Center SE/W Europe at Huber Group answers these questions for Compack.news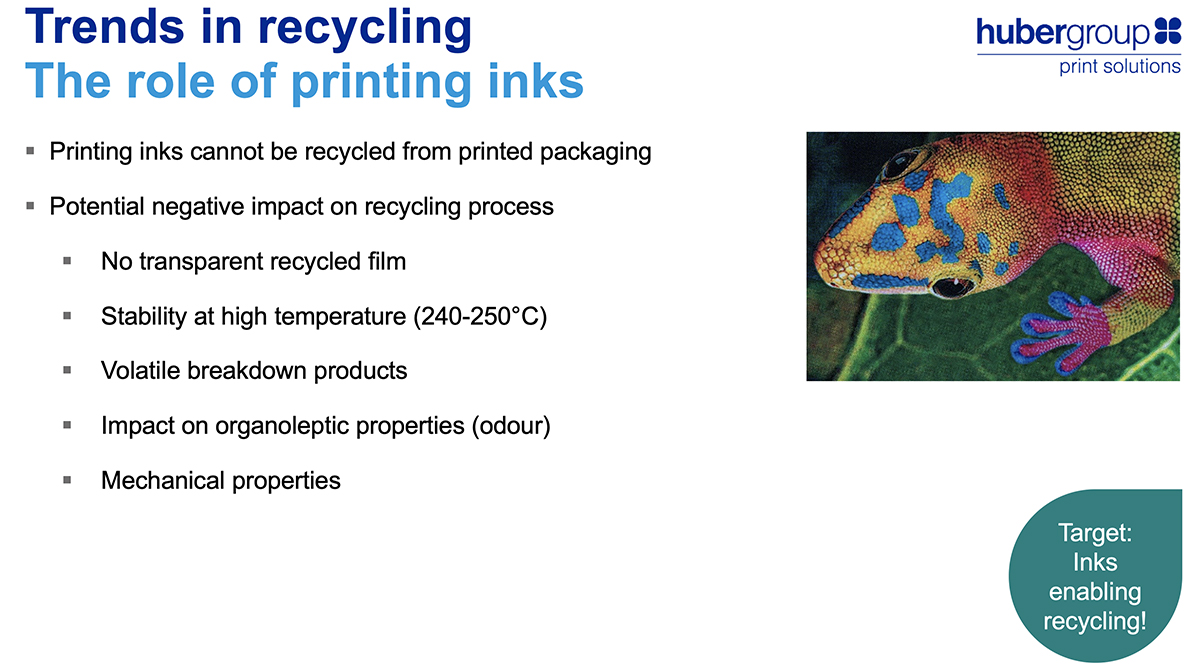 Who is Huber Group
Founded in Munich in 1765 and family-run to this day, Huber Group is active in 33 countries, has 3,500 employees and associates and 10 plants that produce 195,000 tonnes of ink, and recorded a turnover in 2020 of 645 million euro. With the 2006 acquisition of the Indian company Micro Inks Chemical the group integrated upstream with the production of raw materials for the production of inks, giving rise to the Chemicals division in 2020. Today the two divisions are split between chemicals and print solutions.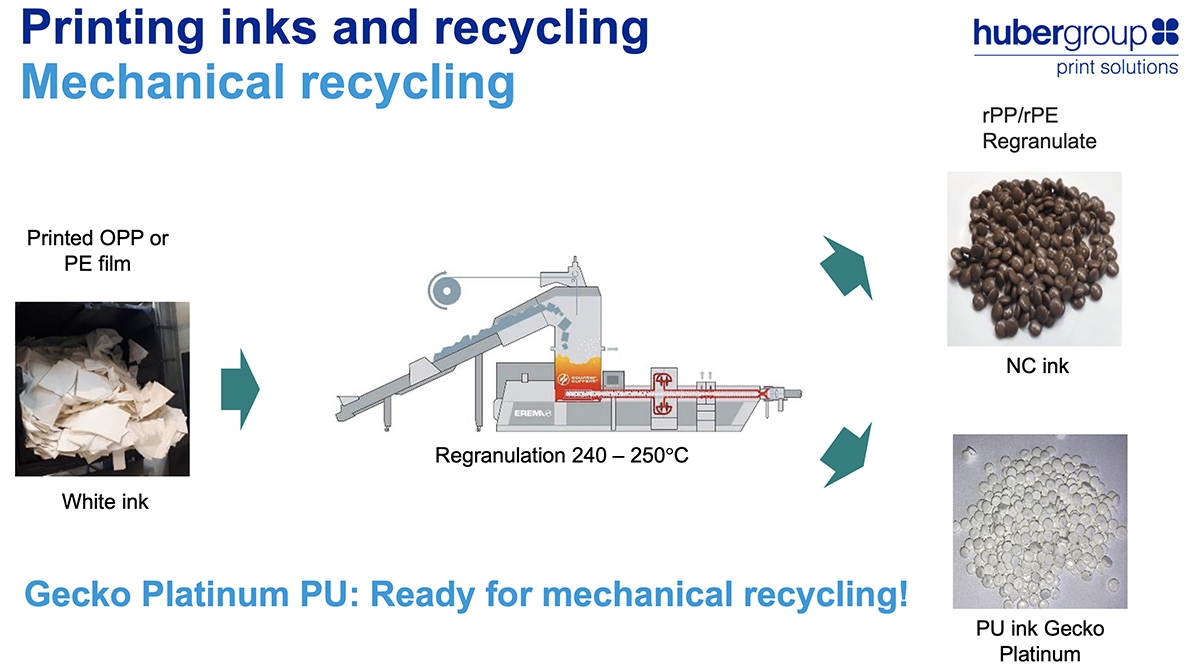 Sustainability is the goal
First off, says Ciriello, three courses of action are needed in order to improve environmental performance: reducing the layers of packing (with special barrier coatings), recycling without removing ink from the package, or else recycling by removing the ink. That said, just using a specific product, adhesive, coating or ink is not enough to obtain a result; crucial is the cooperation within the packaging supply chain.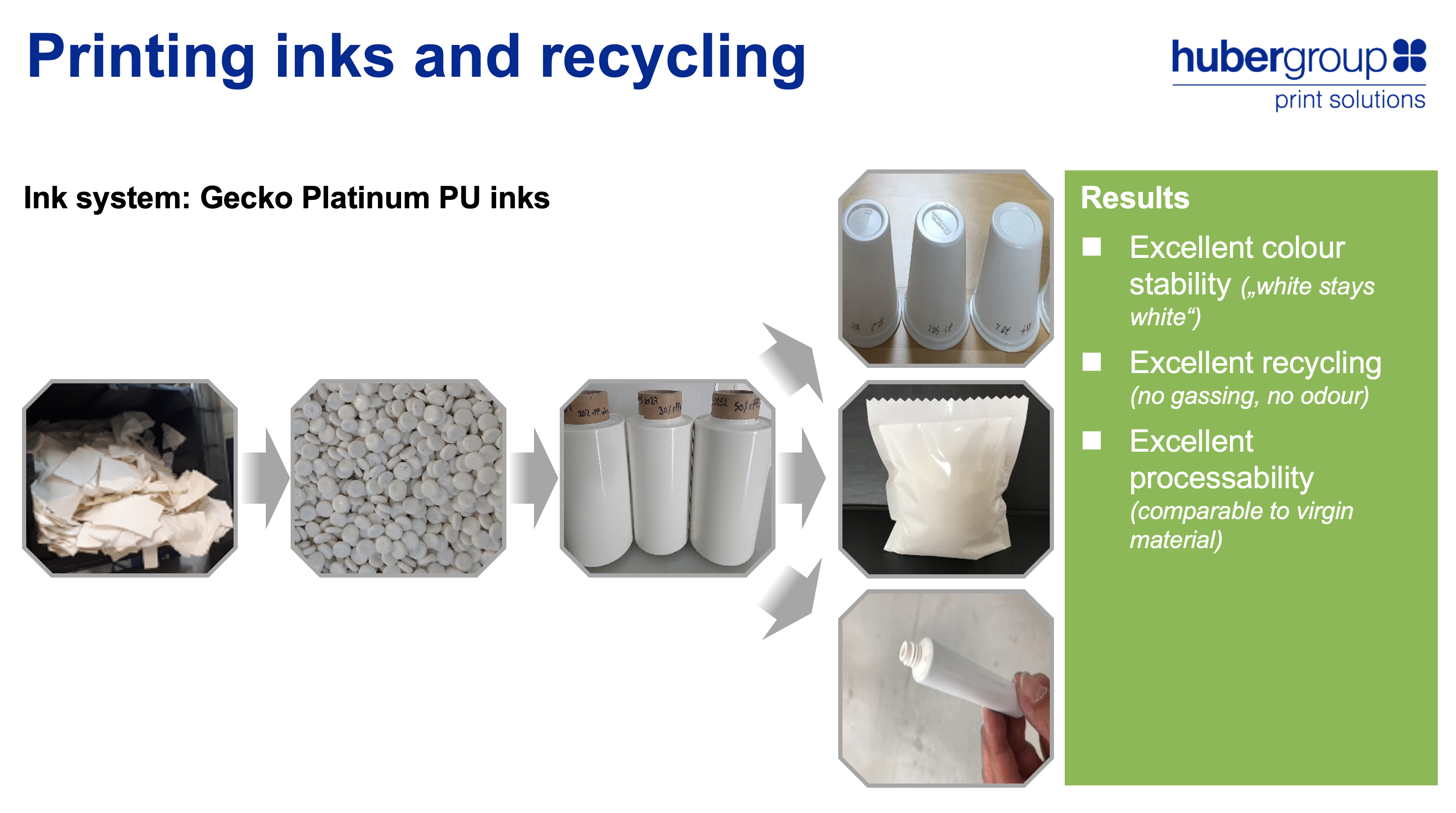 *"A liquid ink, solvent base or water base for flexible films is made up of three basic ingredients: resins, pigments and solvents," explains Ciriello. "We start out with these and after a series of internal tests we reach the technical, safety and environmental performance. The sustainability of inks is constructed in different ways and with different certifications. Our point of departure is holistic: we consider the sustainability of the product itself and that of the companies that produce it, trying to understand how they implement the sustainability goals: this is the approach of *Cradle to Cradle Institute." *
About Circular Economy
There are many elements to evaluate based on the paradigm of the circular economy: impact of the product on personal health, the environment (in relation to the type of energy used, the management of carbon), the supply chain of recycling and the cycle of water that is used along the entire lifecycle of the product. Social equality is also a parameter to take into consideration. The Institute evaluates these factors and gives them a score, and Huber products have passed this initial independent evaluation.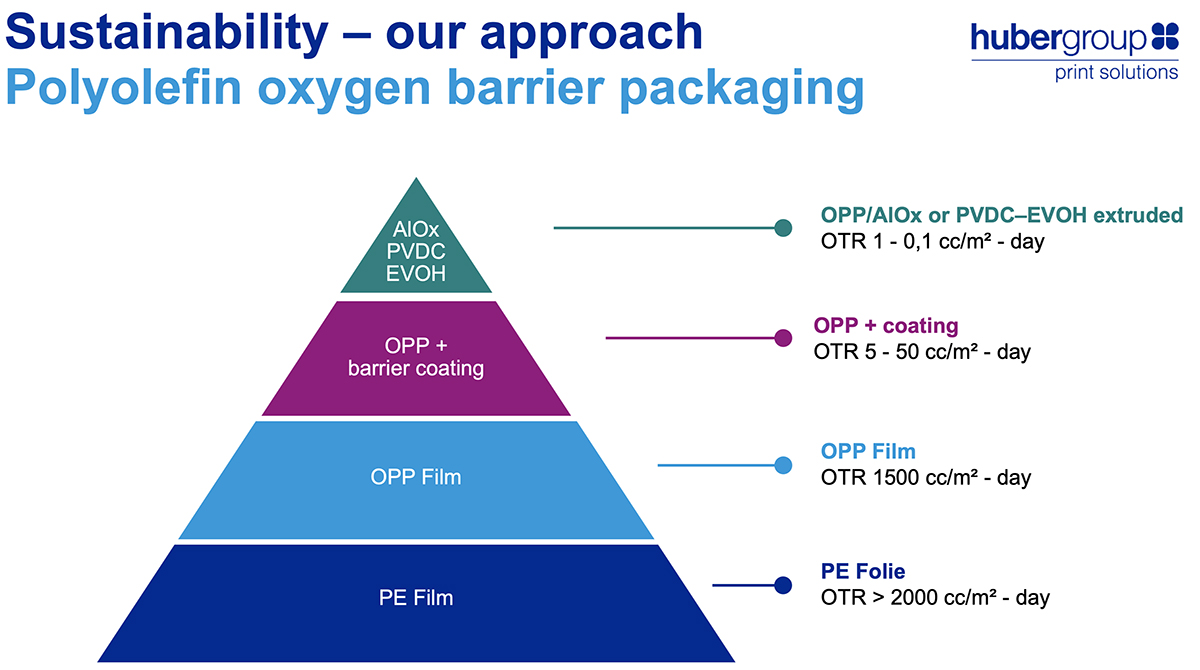 *"From a holistic criterion, we necessarily move to an industrial one as far as recycling goes," continues Ciriello, "To now, the technology doesn't allow for the recovery of the ink from flexible packaging: the 250° C temperature during the production process degrades the components, which change both the colour and mechanical properties. For example, the recycling of a polypropylene or polyethylene film printed with white ink having a base of nitrocellulose resin, produces brown granules and with a characteristic odour accompanied by the loss of mechanical properties. Changing the components and adopting a determined product from Huber, these three inconveniences can be avoided."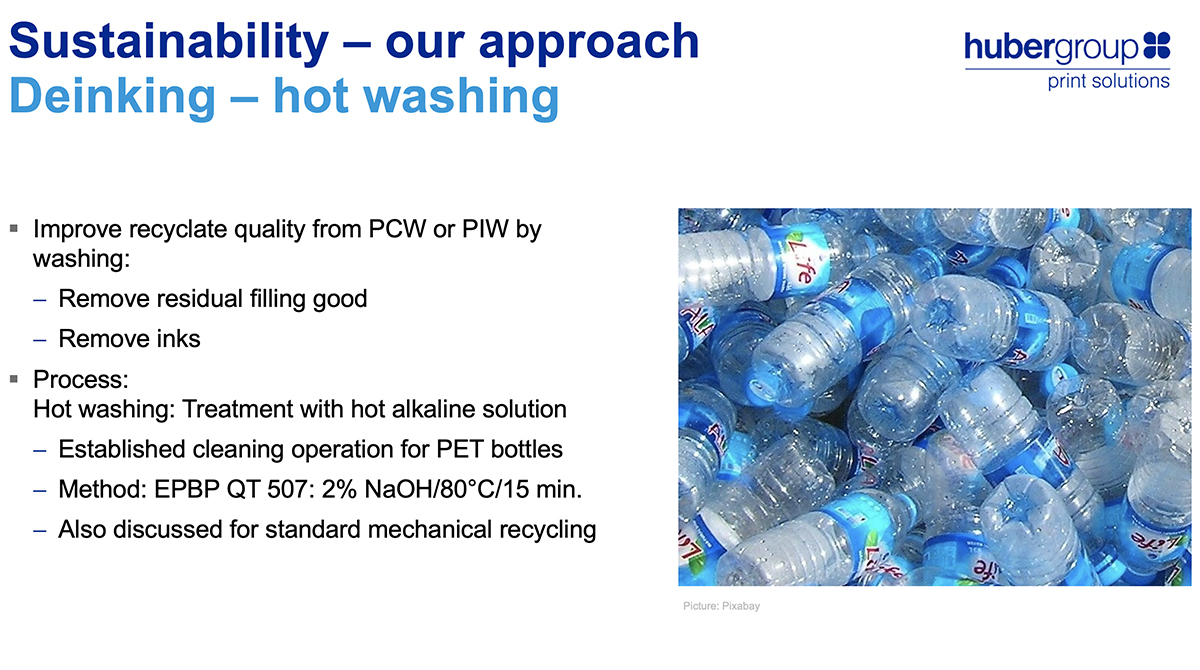 PET Bottle
In the case of PET bottles for beverages, washing at 80° C for 15 minutes with 2% con sodium hydroxide allows the removal of the ink, but standard inks can't be used because they would contaminate the washing solution used, resulting in a new material that not perfectly recyclable. In this case too, Huber formulated a specific product.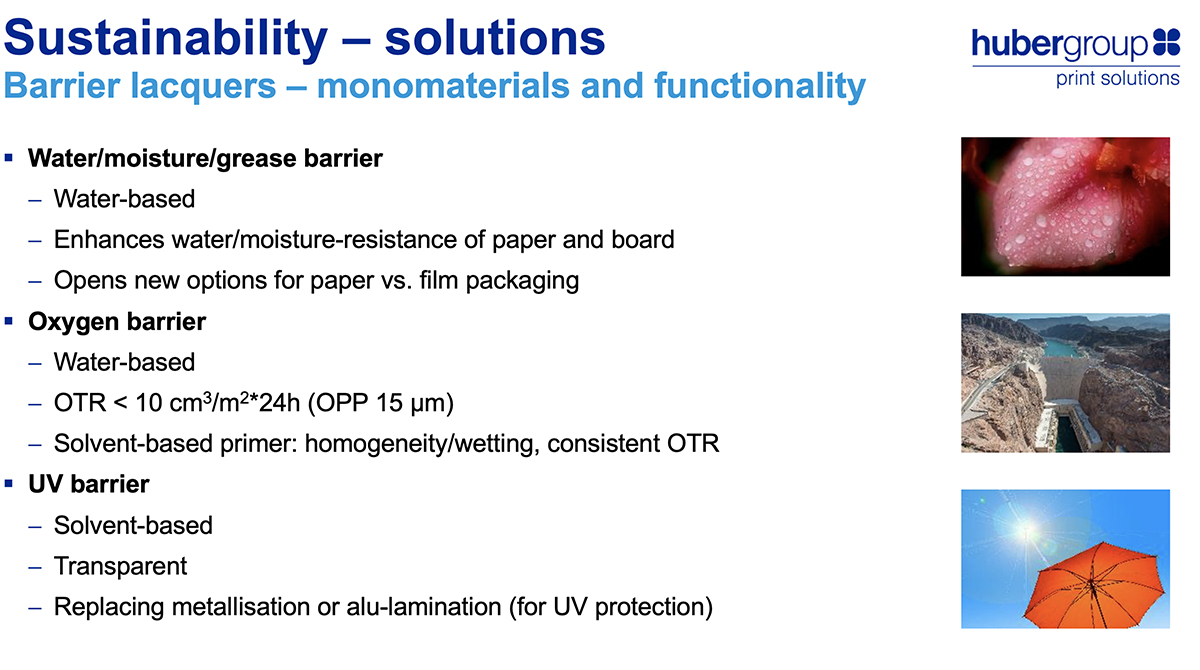 Multi-material Films
"A third environmental challenge Huber is taking on are the multi-material flexible films, such as the co-extruded or lacquered polypropylene films," says Ciriello. "We'll have many different types according to the oxygen barrier level desired. The first logical step towards more sustainable film is to reduce layers by substituting with a water-based coating with a barrier to steam and fats, and possibly suited to cellulose supports. This design enables the initial transition from multilayer to monolayer film for determined levels of permeability."
Huber has accomplished that, and another water-based formula can be used, reducing package layers, together with a solvent-based primer, is the oxygen barrier coat. Last, a solvent-based, totally transparent coating can protect from UV rays by replacing metallisation or alu-laminated films.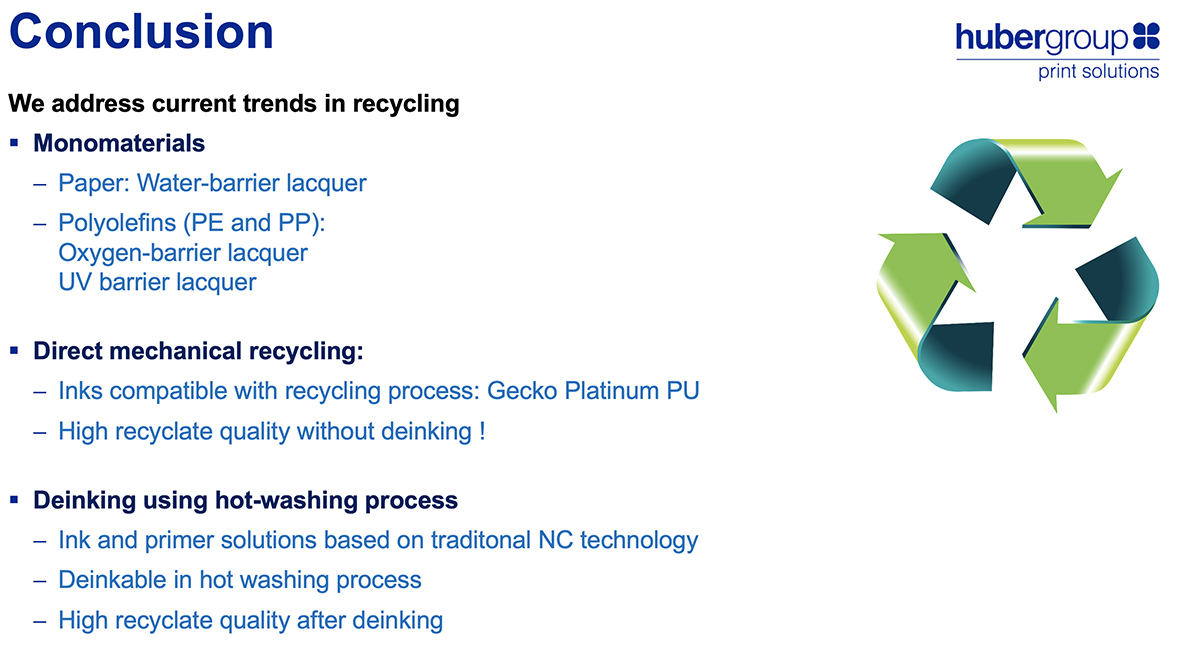 The fourth environmental challenge is compostablity: the German multinational has obtained TUV Austria certification for ink that can be used on supports already certified as compostable, thanks to the specific formulation of resins, pigments and solvents.
*"Other parameters of evaluation for sustainability," concludes Ciriello, "are in the production of inks: it is necessary to evaluate the renewability of the resource, and even now that can be ensured for the nitrocelluloses and solvents. The co-resins, that is, the polyurethanes, don't lend themselves very well to achieving these objectives due to high costs and limited availability. In addition, the current production is still oil-based, as is also the case for pigments." *