In the global war against plastic, the emergence of alternative, more sustainable materials impacts manufacturers of automatic packaging machines, now faced with the problem of changing materials.
Who better than a company founded back when flexible packaging was paper can explain its decision 50 years ago to use polymer, and address the challenges of going back to the past. What are the pros and cons of this counter-revolution?
CPS Company, member of Cassoli Group, produces full lines for the handling and packaging – primary, secondary and tertiary – of toilet paper rolls, tissues, towels, napkins, kitchen towel and hygienic disposables. The systems treat both polymer and cellulose wrapping materials,but to understand thecharacteristics of the lines and the limits of the different types of packaging that can be obtained, some background is necessary.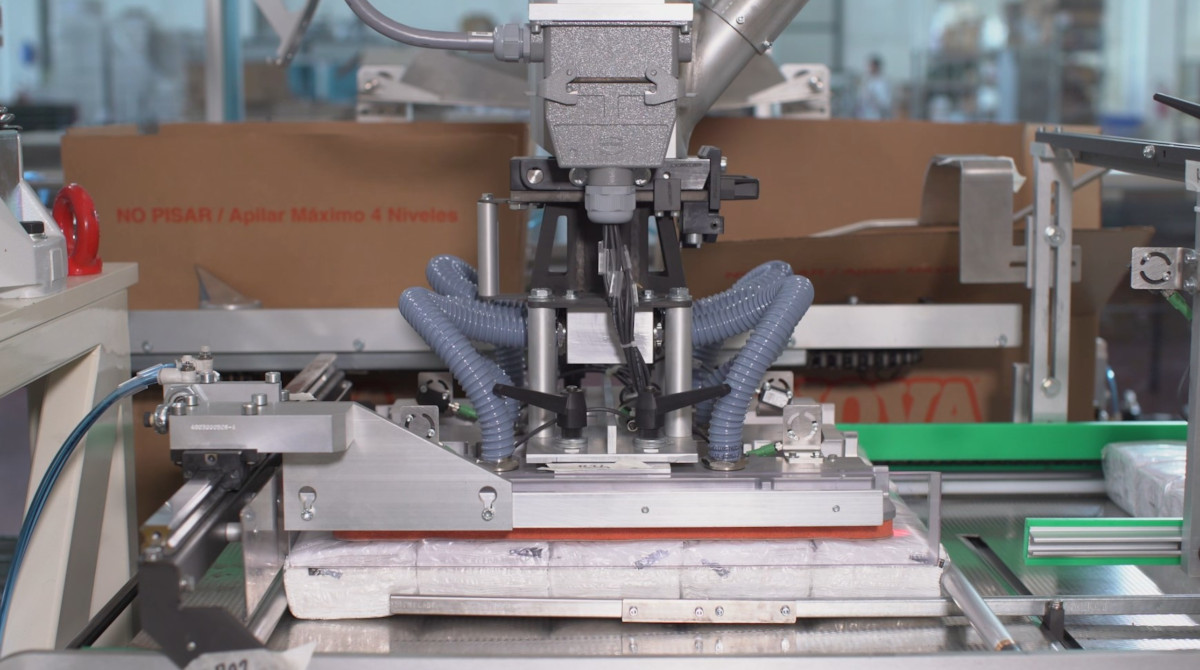 People, ideas and machines
In the 60s, Paolo Cassoli founded a company specialised in handling and packaging bathroom tissue. As his grandson Jacopo Cassoli says, "At the Museum of Industrial Heritage in Bologna, you can still see a RA/C1 from1966 in operation. With just a few moving parts, this ingenious machine did the work of four people, wrapping four rolls of bathroom tissue in one sheet of paper and applyingbands,guarantee seals and labels."
In the mid 90s, the German group Korber acquired the tissue division of Wrapmatic,a competitor of Cassoli, and the majority stake in Cassoli, giving rise to Casmatic (now the name of a line, no longer the company). Founder Paolo Cassoli, along with son Stefano, with the company since 1978, then turned attention to other areas of packaging. After selling the minority shares to Korber a few years later, in 2002 they set up CPS Company with activity in areas unrelated to tissue. Then in 2003, they founded Eurocap's along with other entrepreneurs who held the patent and technology of machines that apply protective aluminium capsules on can tops. Both projects developed technologies in compliance with the non-compete agreement until 2007, when CPS took up the tissue business again with the goal of innovating the market. Patents, proprietary technical solutions and lines developed ad hoc resulted in high-performing packaging materials, precision, speed and the use of alternative materials, as well as the ability to treat polymer films and paper reels. This was followed by the entry of Stefano's sons Marco in 2003 and Jacopo in 2016.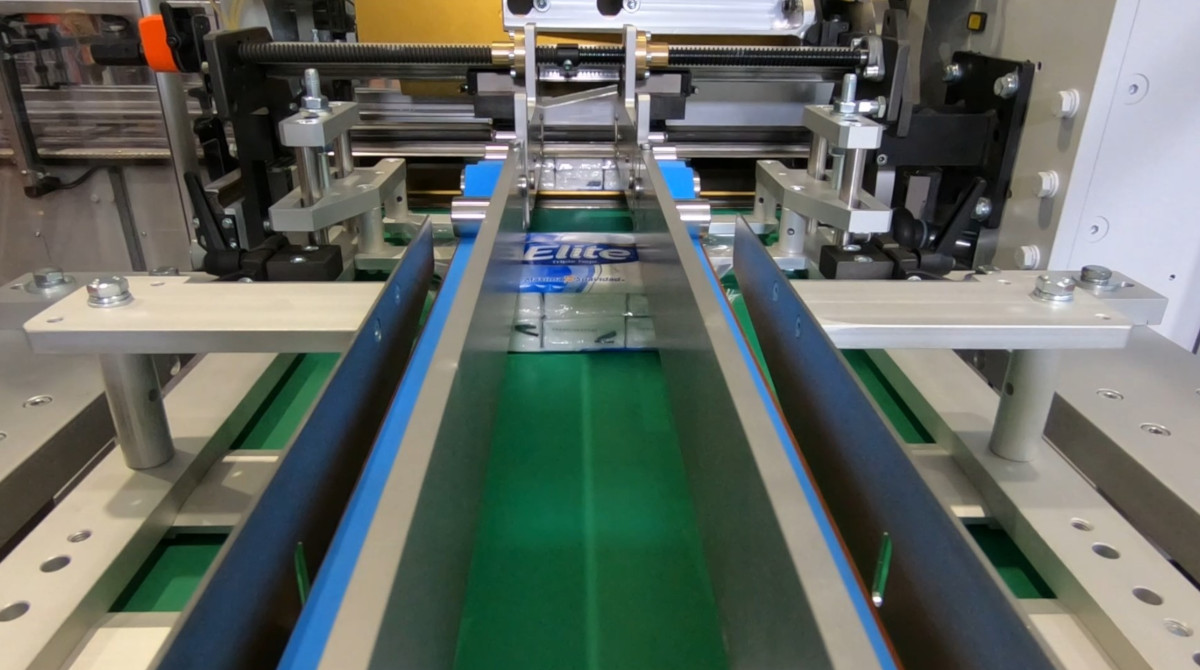 The switch to polymers
In the late 80s, only a few companies in Italy packaged bathroom tissue rolls with paper, suppliers to the army for example, but the system had all but disappeared from the large retail channel, HDPE becoming prevalent, and PP for higher-end products like packs of table napkins.
Folding paper around the product and achieving precision in wrapping and adherence, all while avoiding waste, was no easy task; the cylindrical shape was problematic. But due to the higher costs and development of PP and HDPE, the transition came about.
The problem of moisture
Enrico Rubbini, sales director of CPS Company elaborates:"Another factor is that the limited moisture barrier risked transferring unpleasant odours to the products, in addition to changing the resistance. When the material changes, there's never a single reason: the polymers made it possible to produce stocks while waiting to supply a channel that used to be made up of many small shops. That said, the ability to store a dry product along the supply chain for more than a year is still an advantage today." Wrapping with polymer films, furthermore, made it possible to create innovative products, for example lotions and scents with soothing or aesthetic functions that have a hard time remaining stable in a material without a barrier such as paper.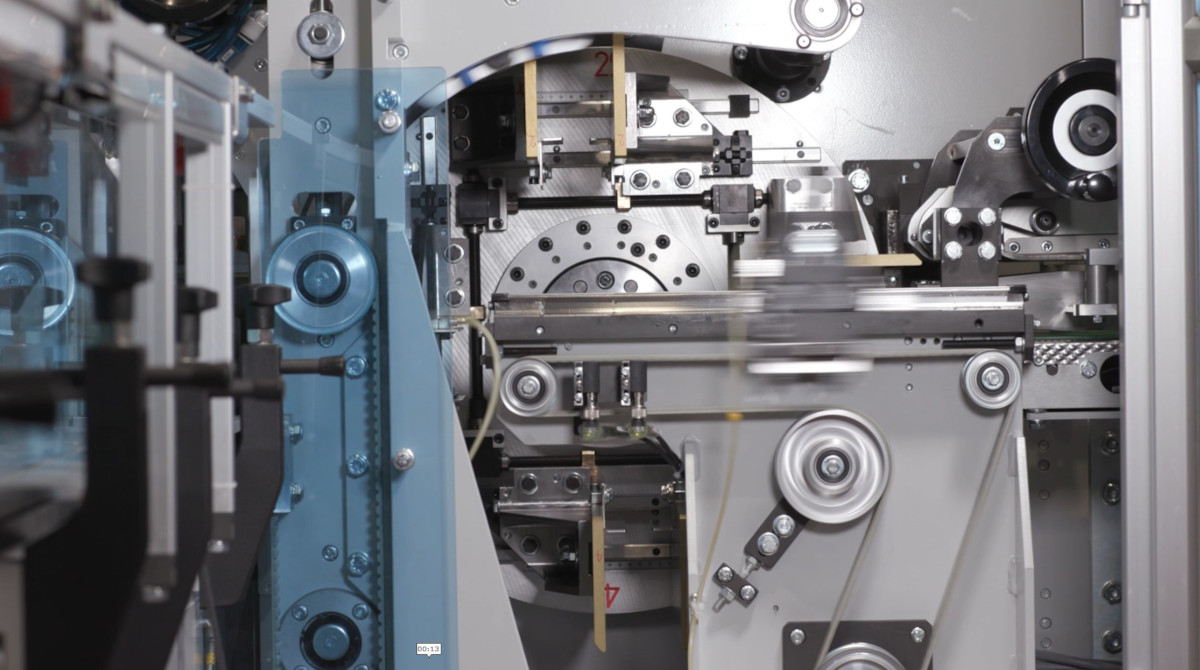 Secondary packaging
If requested, CPS Company will support the 'paper' option but always suggests a second level of protection in polymer film:a film that wraps and groups several units sold as a pack is necessary not only to make depalletising and shelving easier, but also to protect from moisture and dust, as with paper-wrapped products. "Since distribution almost always requests secondary packaging, except for discounters displaying packages on pallets," explains Rubbini, "it's actually not inconsistent to use LDPE for the secondary packaging of paper products, as plastic is reduced anyway."
Disposal of primary and secondary
For the end consumer, recycling paper wrappings at home is straightforward. However, at sales points of large-scale retail channels recycling secondary polymer packaging is an established practice. This helps to understand how important it is to reason according to the target and the function, without being conditioned by the type of material.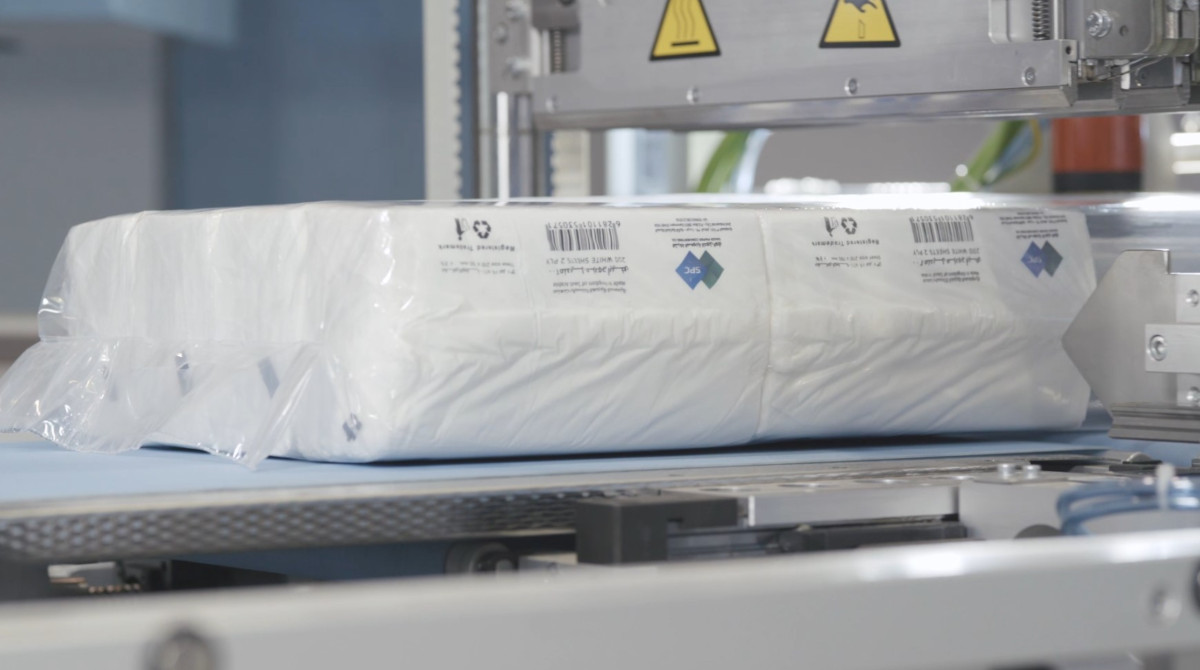 Sealing
Today most companies that have installed paper packaging lines use cellulose supports but choose polythenates (under 5% in weight) for the existing lines and sealing to avoid problems; resorting to dot or line gluing would be unthinkable. And to be consistent, the adhesives should be biodegradable, which creates risks of contaminating the lines, the need for more frequent maintenance and major modifications to process steps.
Cost of material
"When comparing the two solutions, there is a variable that can't change too much," points out Rubbini,"and that's the cost of the paper with respect to polymers, which isn'ta controllable value, especially in periods like now. If we assume a 2% increase in manufacturing costs for switching to paper, we also have to consider that the products have margins bound to large sales volumes."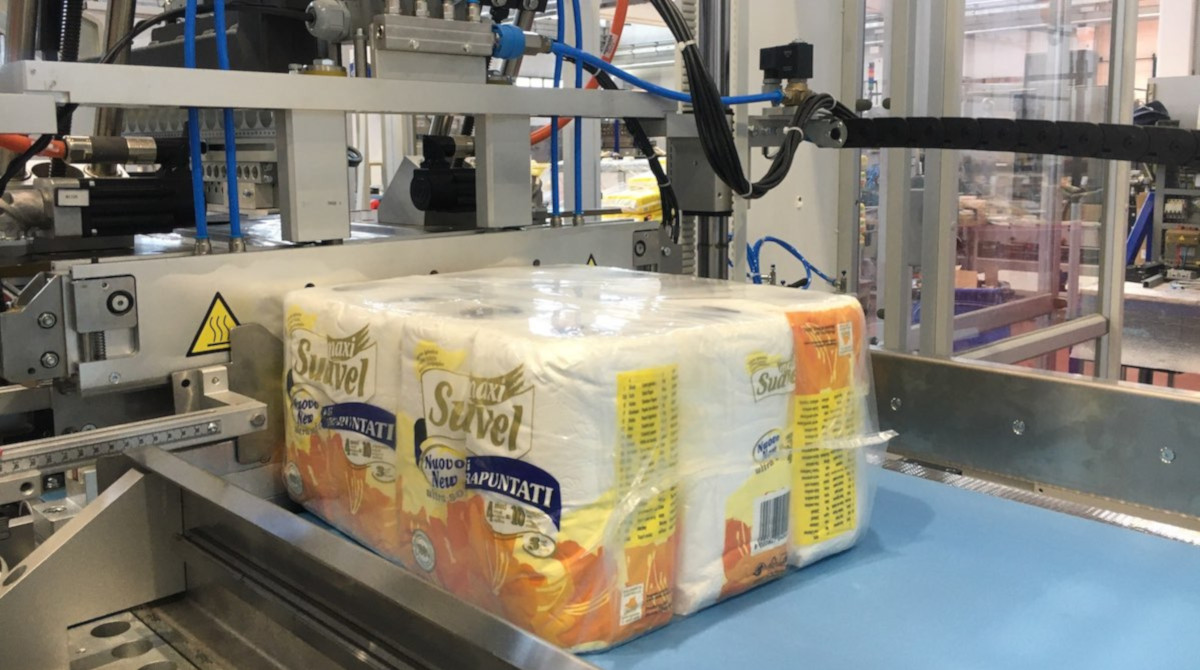 Modifying an existing line
Installing a wrapping unit that can treat film in paper as part of a whole packaging line is not a major technical problem since most tissue technologies are based on common logic. And the producers of those systems, including CPS Company,cover all the steps and levels, from primary to tertiary, set up of the rolls through to palletisation.
Some companies prefer adapting traditional lines, using papers pre-treated with polythene; others, after evaluating the TCO, turn to specialists like CPS Company.
"Our expertise in paper goes back to the 70s," emphasises Rubbini, "especially how it behaves during unwindingfrom the reel, therequired tensions and the stroke adjustments, and also the shape of the folder. Just paper doesn't exist; there are papers plural, and you have to know them before building an automatic machine around them."
For example, to pack napkins CPS Companydesigned a different cycle from that traditional, one that permits a higher speed and better control of the product, but that manages the polymer or cellulose support in the same way. Basically, the company designs the innovation of the cycle, taking into account that different wrapping materials might have to be used. As such, 'dual' lines are created with performance that differs in speed and output, and that can be integrated with auxiliary systems on request. Essentially they are hybrid systems. The priority, however, is to be equipped with efficient, flexible, high-performing systems that can manage the TCO for a category of high-volume, low margin products.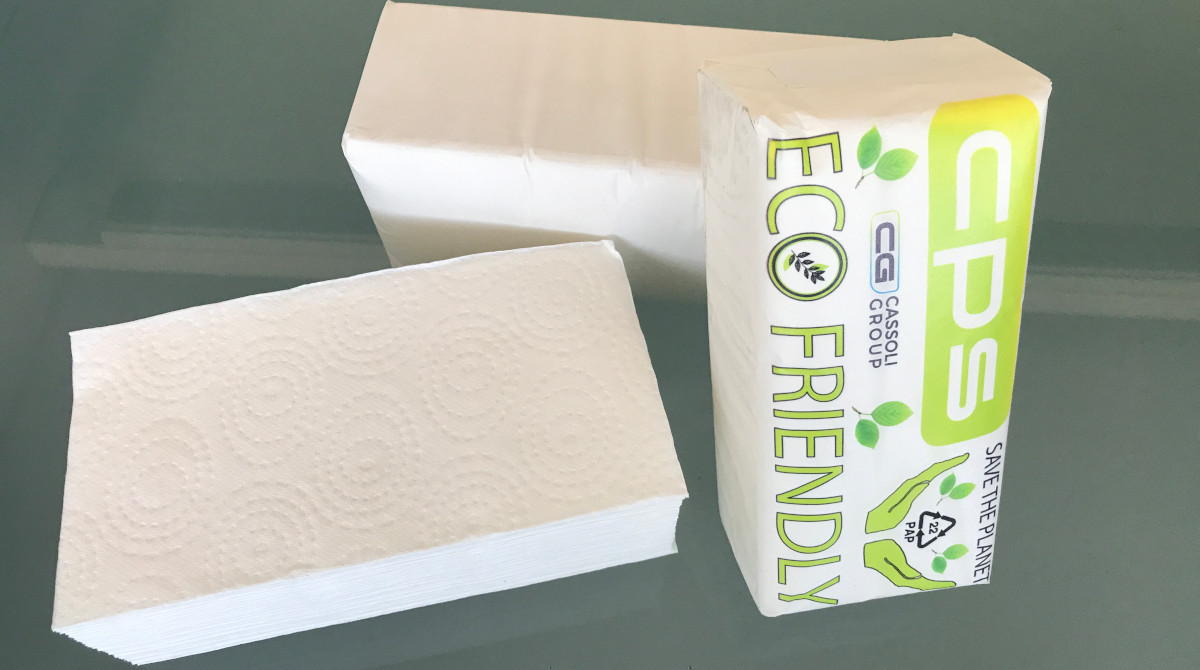 Market outlook
Interest in this type of primary packaging began about ten years ago, and it was only five that the first lines of 'paper only' appeared. The share in Europe, nation by nation, is similar,and the forecast points to a slow development of the market of paper-packed tissue.
Attitudes regarding the impact of polymers continue to influence the decisions of buyers (who can't avoid the judgment of end consumers) and consequently producers (who choose to add, not replace). This is a matter of image and marketing in order to maintain competitiveness. Of the 70 converting lines for tissue currently operating in Italy, less than 10% are dedicated to packaging with paper.
All producers of papers for packaging have projects for improving the mechanical properties of cellulose supports, "but there will be a breakthrough only when national or European laws prohibit the use of polymers," says Rubbini, "otherwise producers will continue to prefer them. Some nations like France have imposed a time limit of two years to ban secondary packaging in plastic if the primary packaging is plastic: it is allowed only if the primary is not in plastic. As manufacturers, we have to keep our feet in two shoes, even three considering bioplastics."
"Companies that presently wrap toilet paper rolls with paper using our systems can be counted on one hand. It's an interesting market niche, but it has more the dimensions of a start-up. Those that have installed them are measuring the industrial costs and marketing advantages. No one has fully converted to wrapping in paper," states Rubbini.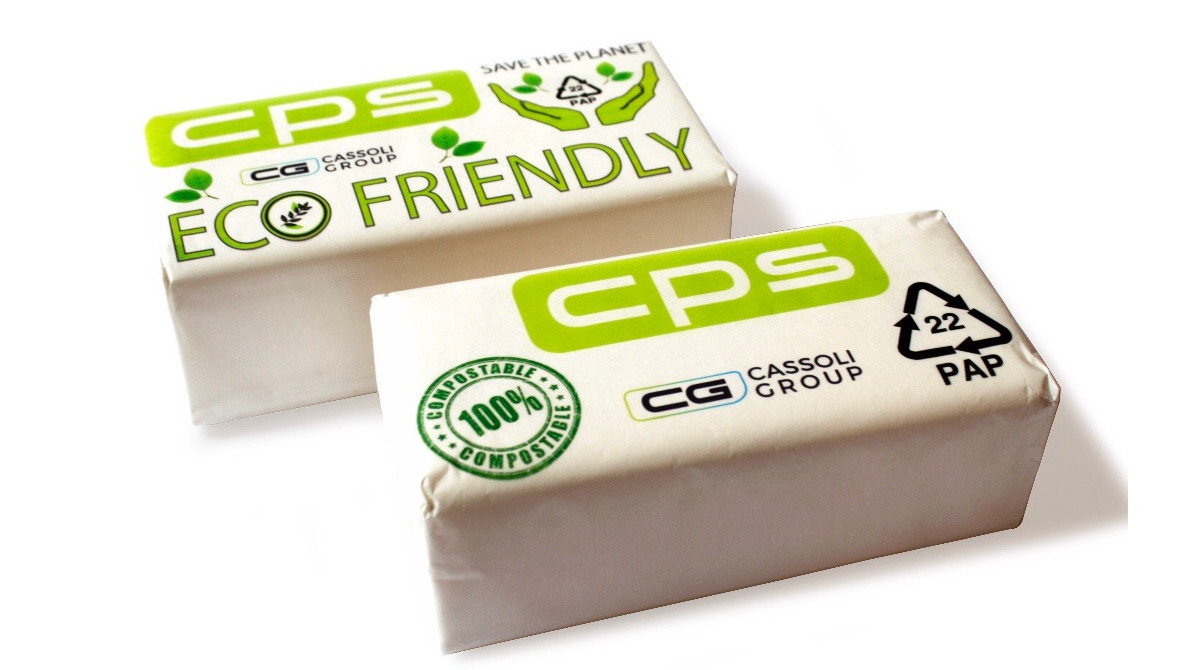 While the second half of 2020 was marked by a wait-and-see attitude and slower investments, the first four months of 2021 in the tissue segment saw Italian and international companies resuming innovation, increasing capacity, and making simple improvements to existing lines in the interest of efficiency, capacity and maintenance costs.
It has also been an intense period of activity for CPS Company of Cassoli Group, coming off a delivery of 11 secondary packaging lines for hygienic disposables. The pandemic definitelyhas definitely had a role to play, thanks to the convenience of disposable products: for example, more interleaved hand towels were produced and became common for household use.
This trend partly made up for the drop in consumption in the hospitality channel. Some companies had to invest so that they could cover production peaks in sectors that grew unexpectedly. Today the market favours those who cover multiple channels with multiple products, and who have more interest and possibility to invest. The growth has increased also in a market traditionally slow and saturated like Europe, whereas Africa and South American appear more promising market areas.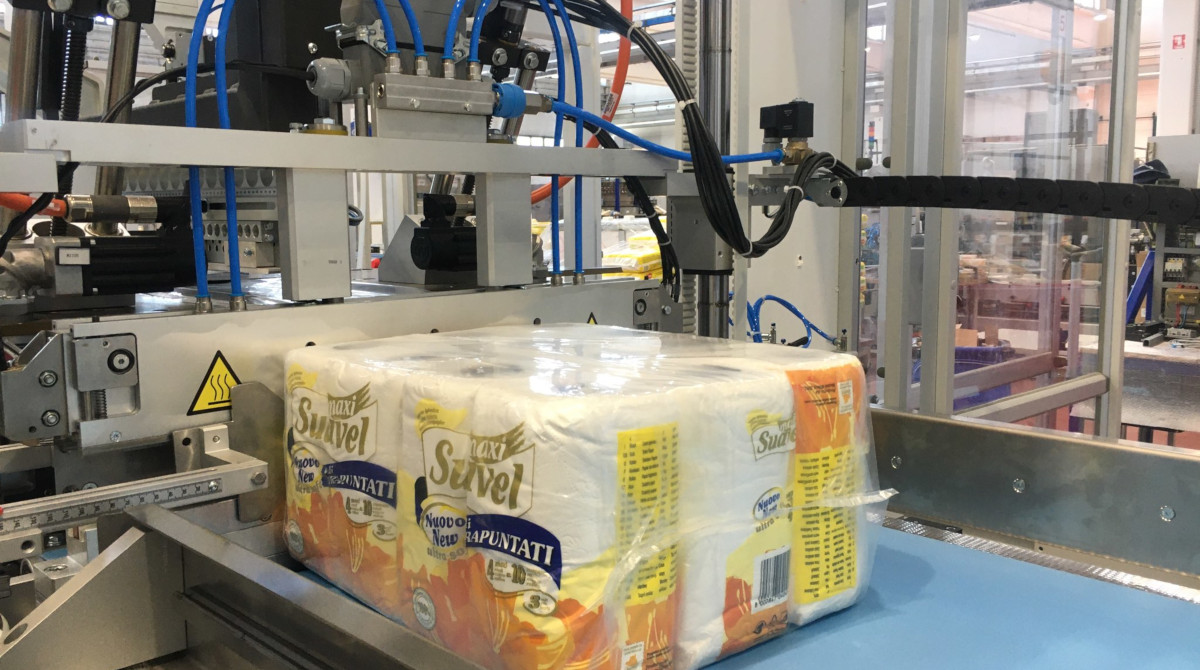 BOX 1
WRAPPING WITH PAPER AS LONG AS…
• formability around product not immediate
• slower speeds for unwinding and forming
• higher temperatures and longer times for sealing
• use of polymer coating or glue
• decrease in hourly productivity
BOX 2
WHAT TO EVALUATEBEFORE A TRANSITION
 cost of packaging material
 seal grip
 sealing materials
 level of protection
 line maintenance costs
 target of the level of packaging
 attitude of target to recycling
 simplicity/complexity of recycling