Aquaria is the name of the new machine engineered and manufactured within the IMA Group' Active Division for washing of components and parts of solid pharmaceutical production and packaging lines. The name evokes the two most important and natural elements of the sanitising process: water, the most widespread solvent in nature; and air, the most suitable fluid for drying any surface quickly, safely and completely. The new system will be presented at Interpack 2023 at the IMA stand in Pavilion 17.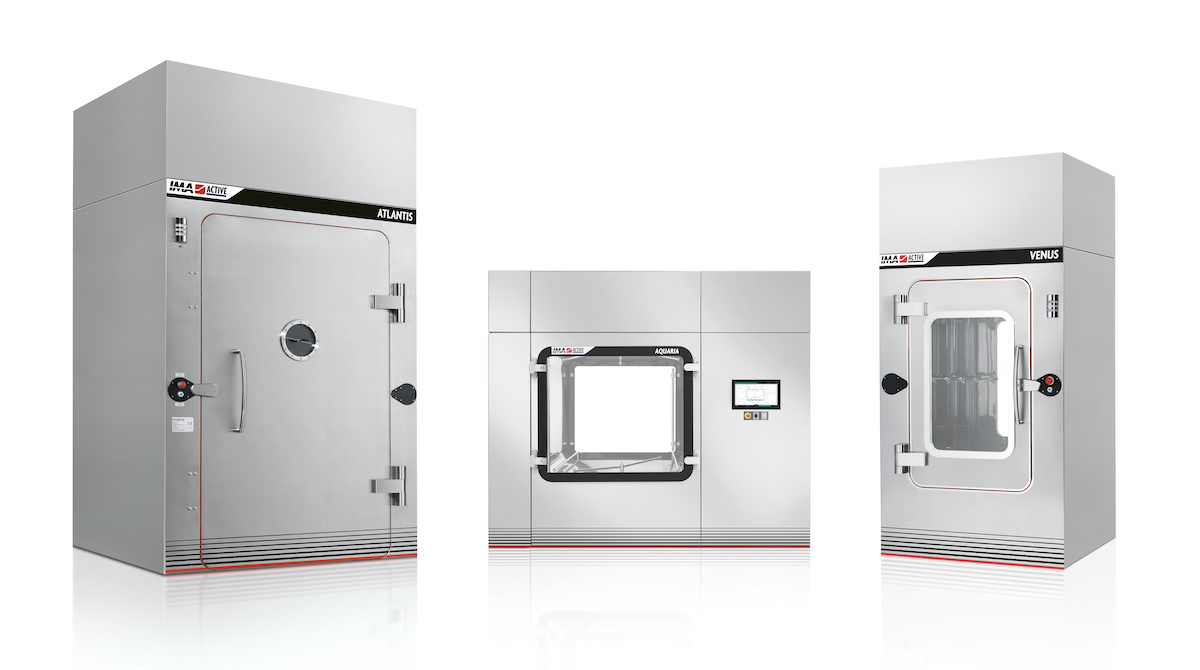 Aquaria's primary objectives are cleaning effectiveness and process efficiency: time, customised configurations according to the type of component, reduced machine footprint and, above all, target-tailored consumption. Aquaria is also the low-impact parts washer: applied automation to keep water, compressed air, detergent, electrical and thermal energy consumption under control.
A complete range
Aquaria was created in 2022 within the IMA Active division dedicated to the manufacturing of machines for the processing of oral solid dosage forms: granulation equipment, tableting machines, capsule filling machines with a wide range of filling and control systems, capsule and tablet coating machines in perforated pan and solid wall, capsule and tablet weighing machines, product handling and washing systems.
The product line comprising Aquaria, together with Venus and Atlantis, performs a cross-functional function on all the division lines, but also on those parts of the packaging machines that come into contact with products (e.g. blister machines) and are manufactured within the IMA Safe division for packaging solutions.
The R&D unit headed by Nicola Gandolfi (R&D Mechanical Design Manager for washing systems at IMA Active) designs both the CIP-Cleaning in Place functions of all IMA Active's machines and the new Aquaria. Expertise in washing machines began in 2006 following the acquisition of a company and the integration of its pre-existing machines (Atlantis and Venus), people and projects. Aquaria is therefore the fruit of that process that began in 2006.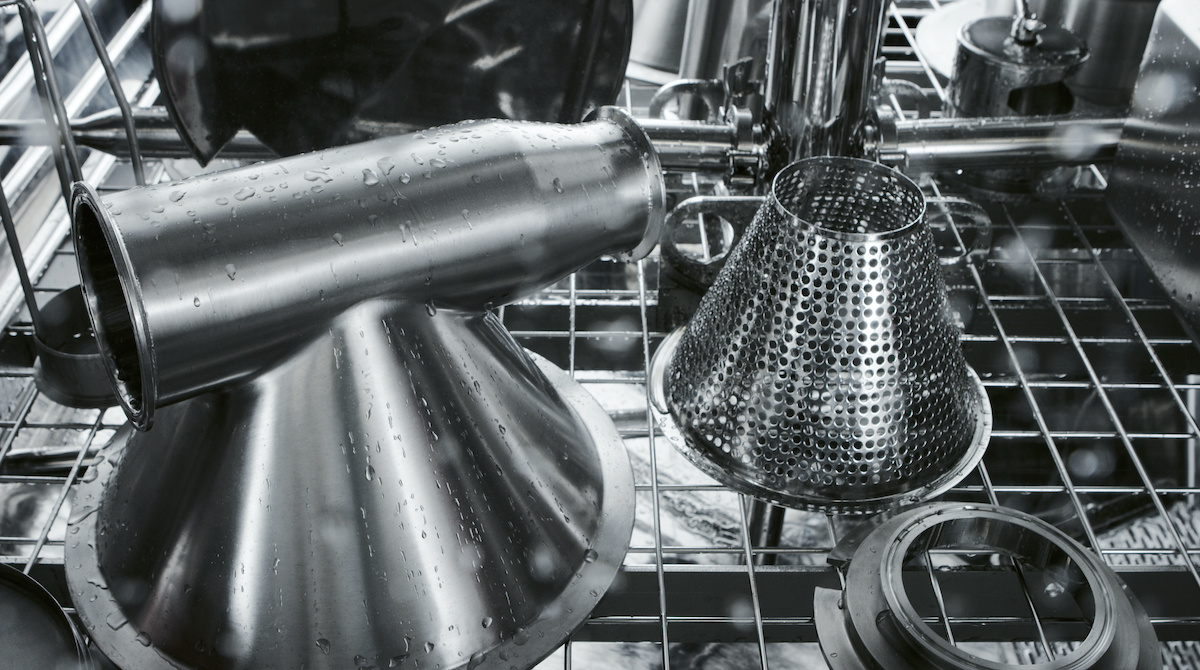 Identikit of the new machine
Aquaria was created to wash machine parts and components of pharmaceutical and nutraceutical solid process lines. Its distinctive washing chamber has a large volume compared with the overall footprint of the machine, optimising the washing section layout. The chamber is extensively accessible and the entire washing process is highly visible.
The process provides customised recipes for types of machine components and pharmaceutical processing, yet with several important 'environmental' prerogatives: the water recirculation system and the ability to adjust flow and pressures to different levels reduce water consumption. The three dosing units have an automatic anti-waste system, while the heat exchanger maintains a stable water temperature in 'recirculation' mode. Lastly, the high-speed hot air circulation system removes water droplets quickly, consuming less energy. Control is through Kortex MAX, the IMA supervisory system that ensures highly visible information, fluent interaction, quick response to commands, easy learning, integration with plant management systems and remote service control.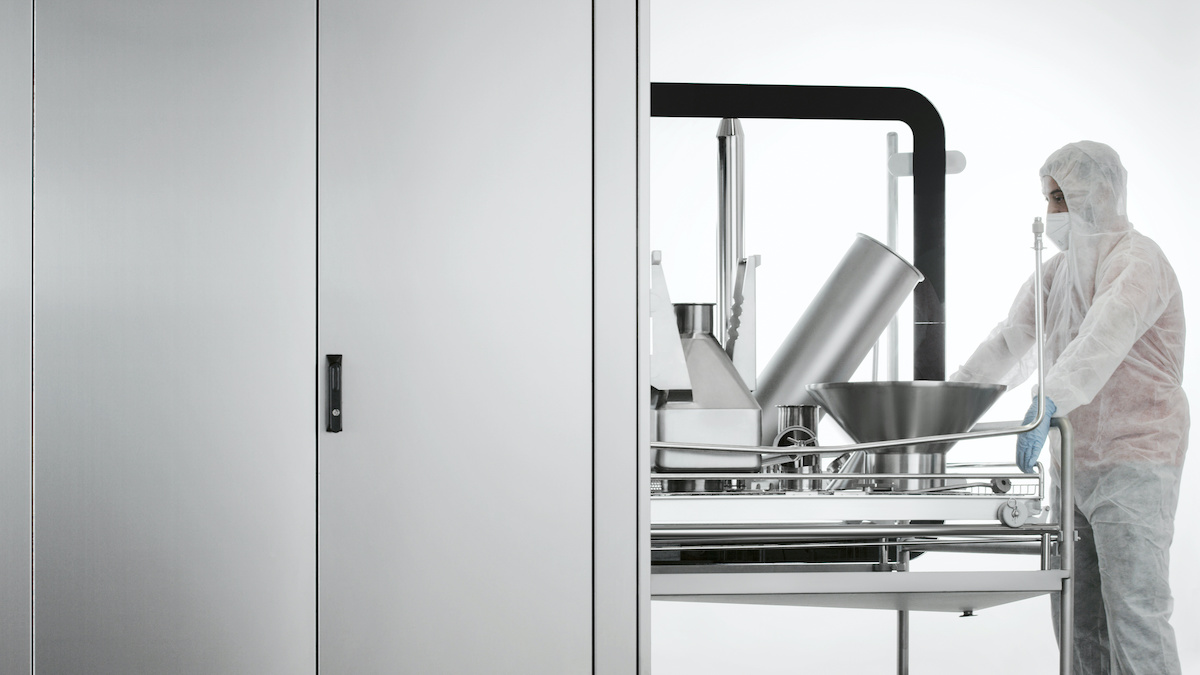 Consumption regulation
"The birth of Aquaria marks the transition between two historical phases: until yesterday, little or no attention was paid to consumption during the washing phase," Gandolfi stated. "The pharmaceutical market is historically 'rich' and strongly result-driven, but mentality has changed over the last few years. Our commitment has been to design performance while reducing detergent, electrical and thermal energy as well as compressed hot air consumption. We focused on what we call 'the recipe' - i.e. how the machine attains that performance, considering the environment, sequences, timing, temperatures, pressure, amounts of water, air and type-quantity of detergents needed for different wash cycles depending on the result pursued."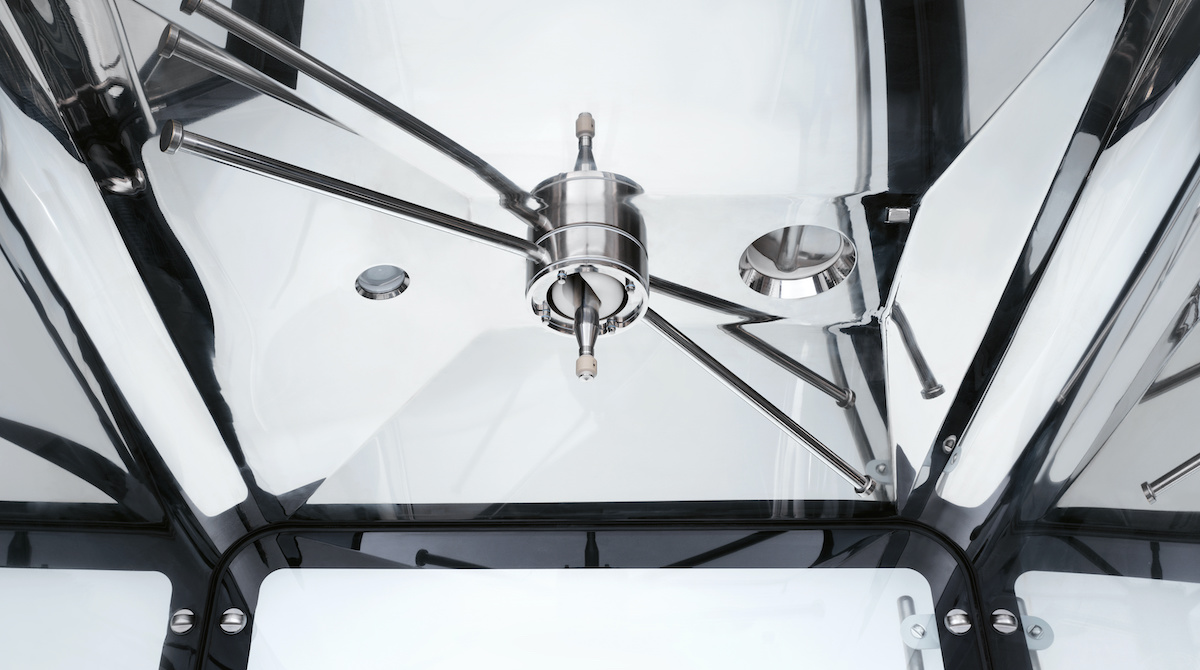 Upcoming R&D activities
The controls implemented are the same as for processing machines in terms of data acquisition, recipe repeatability, user management (not all users can choose any recipe), etc. Therefore, at control management level, washing machines have the same dignity as processing machines. With regard to monitoring and automatic controls of results, IMA Active's R&D Department has several projects under study based on Artificial Intelligence and Vision Systems. The aim is to ensure that one day the machine will learn from several different cases, handle new components or problems, and be self-regulating, thus growing to recognise where a component is dirty and how dirty it is in order to dose water, air, detergents and energy as needed. IMA Active does not design or supply customised detergents, but recommends dosages and types to ensure cleaning results and component longevity.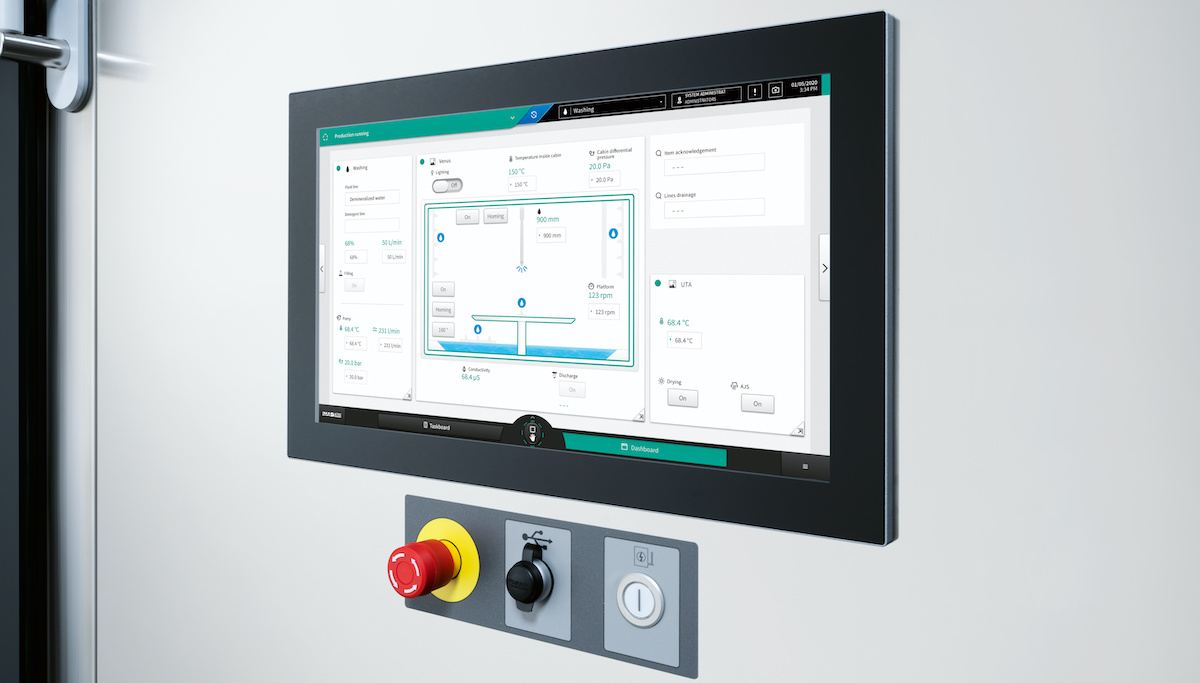 Measurement and repeatability
"Cleanliness parameters and measurability of results are objective criteria yet they are highly variable depending on the polluting material and the classification of the parts in more-or-less direct contact with the process. Users have higher skills and knowledge than ours as to solvents and washing cycles," Gandolfi emphasised. "Overall, what we see is that if a processing machine is always used for the same type of production, the level of cleanliness required is less than the optimum required for different productions using the same machine. There is no risk of cross-contamination and sample tests are not needed. The recipe will require therefore lower temperatures, shorter times and less detergent."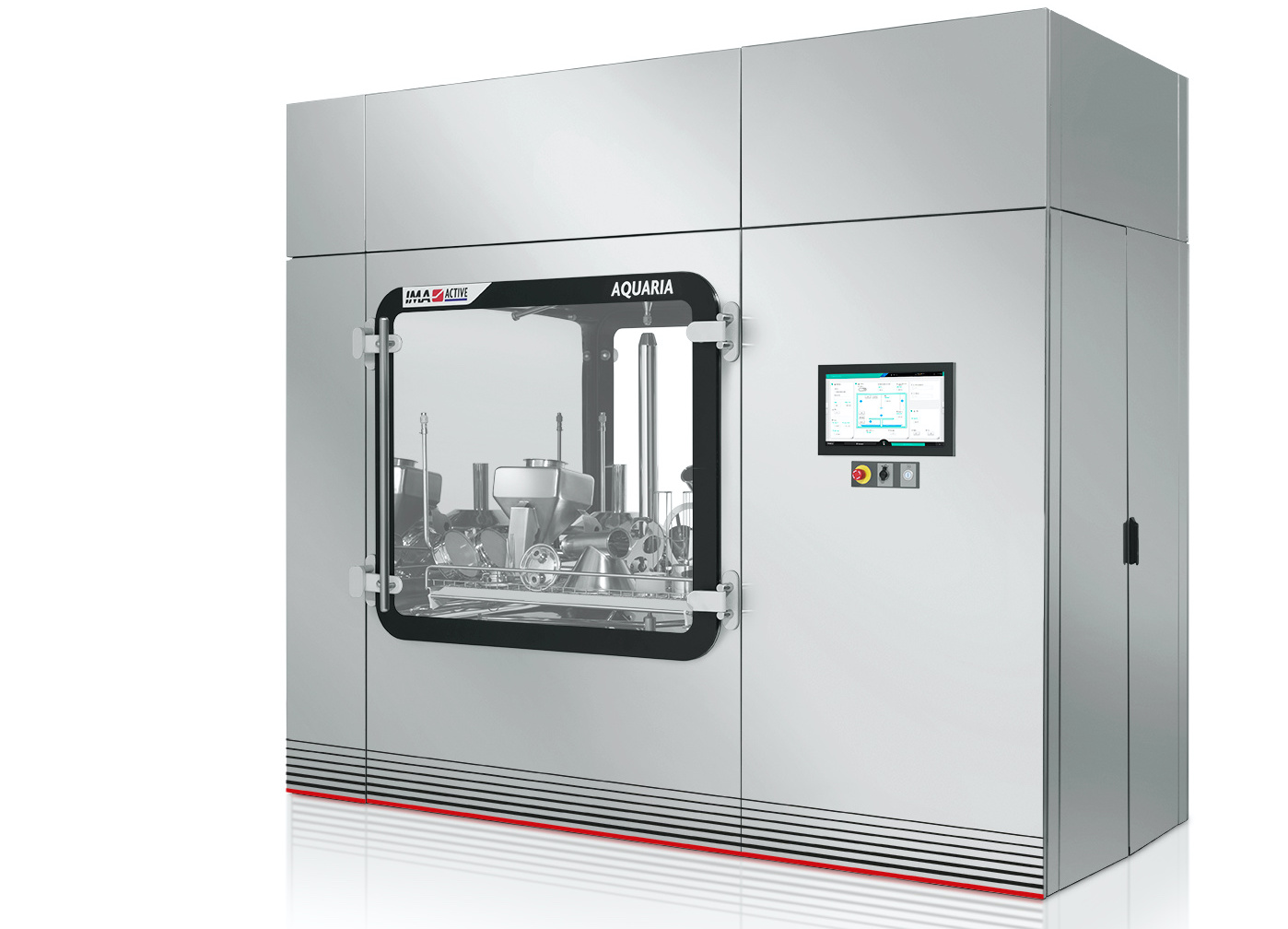 Aquaria first of all guarantees a repeatable process: sensors and alarms monitor the washing result - e.g. if a part of the washing circuit is clogged, a flow does not have the required pressure, or the temperature is abnormal, the management software records all anomalies and allows you to intervene, and then choose whether to repeat the process. The design of the rotating arms - together with the sensors, geometry of the baskets, shape of the chamber and of the accessories - permits a lower number of baskets overall, thereby optimising consumption and improving the washing results. Saving also results from the high-speed hot air circulation system to remove water droplets quickly and with lower energy consumption. Compactness is the last, but not least, requirement that factors in the running costs of pharmaceutical production and the need to reconfigure the washing segment over time.
"With Aquaria," Nicola Gandolfi concluded - IMA Active completes its offer of machines capable of washing the components of any of our machines and highly compatible with those produced by other manufacturers. It is a new generation of high-performance, low-consumption parts washers."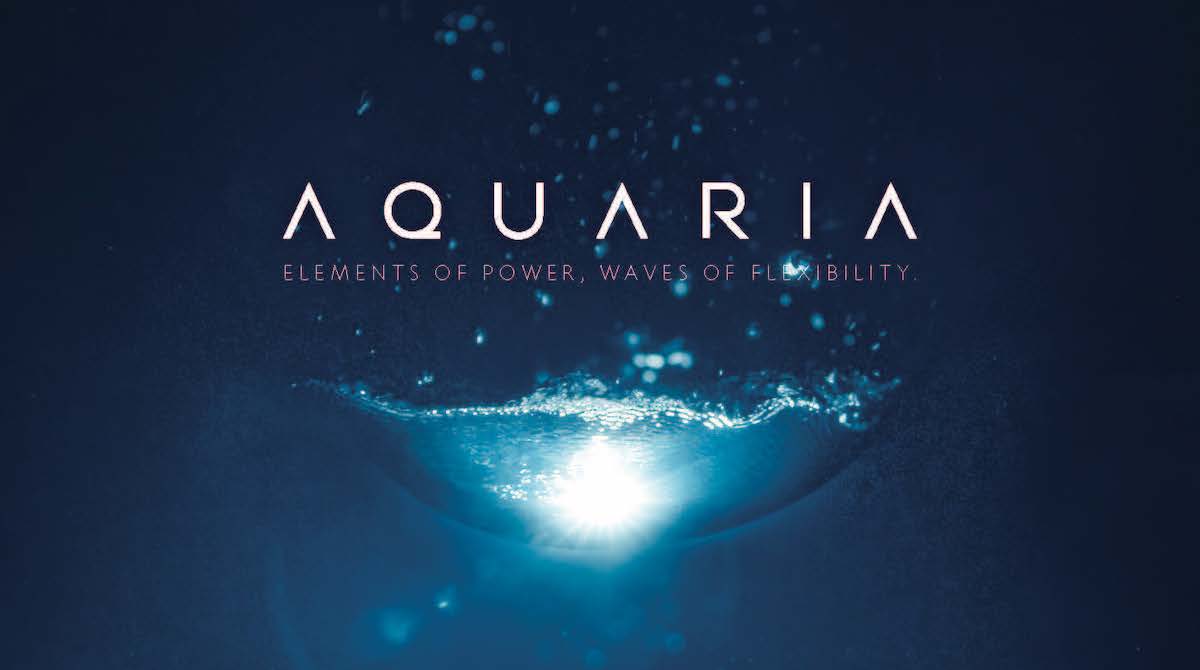 IMA: an integrated ecosystem
• IMA is a world leader in the design and manufacturing of automatic machines for the processing and packaging of pharmaceuticals, cosmetics, food, tea and coffee.
• In planning its strategies, the IMA Group considers the economic, social and environmental implications of its operations, aiming to ensure a balance between competitiveness, environmental sustainability and social responsibility.
• Through ongoing investment in technology, constant enhancement of product quality and reliability, and academic and scientific partnerships, IMA aims to meet its end-users' demands and thereby gain a competitive advantage.
• IMA's vocation for innovation proves its strong drive to supply solutions and not just products: the IMA Group has over 3,000 patents and patent applications worldwide.
• In over 60 years of activity, IMA has built up a series of highly qualifying values, such as experience, reliability, widespread presence in the global market and a strong capacity to respond to end-users' demands.